BGR Report - Claystone under the magnifying glass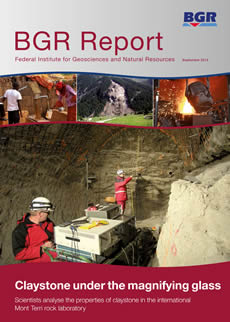 How and where high-level radioactive waste is to be stored in future has not yet been clarified. The German Federal Government adopted the so-called "Site Selection Act" in 2013. The act regulates the fundamental steps in the search for a repository which will guarantee the best possible levels of safety over a period of one million years.
In Germany, the possible host rocks for a repository for high-level nuclear waste material in deep underground formations are above all: rock salt, claystone and crystalline rocks. Each of these rock types has advantages and disadvantages. In the article "Claystone under the magnifying glass" on page 38, you may read about the research being done by BGR's scientists in the Mont Terri rock laboratory in Switzerland.
The Commission for the Storage of High-level Radioactive Waste has been given a deadline of 2016 to present recommendations to the German Federal Government. These will form the basis for the decision making process in selecting a location. Most important aspects taken into consideration will include safety and the geological criteria. The Federal Government refers to the geoscientific expertise of BGR for advice on these issues. The interview "Criteria for a repository" on page 70 reveals the tasks BGR is involved in to provide this consultancy service.



If you are interested in former reports of activies, please click here:
Contact
Phone:
+49 (0)511-643-3470