Activity report Federal Institute for Geosciences and Natural Resources 2011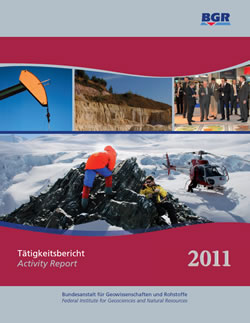 BGR's work is gaining in importance and is increasingly in the public eye. The media are focusing ever more on current issues such as the final disposal of high-level radioactive waste, Germany's supply of mineral and energy resources, or the exploration of the polar regions. Other subjects include soil, groundwater, geohazard analysis, earthquake monitoring and international cooperation.

This activity report is a special issue. Unlike its predecessors, it is an annual report in German and English. From next year, the activity report and the research report "ResOURce", both published biannually up to now, will appear as one publication containing even more up-to-date information on the activities and responsibilities of BGR.

The bilingual 2011 activity report provides a detailed overview of all expeditions, research findings, projects and events of the past year. BGR's wide range of topics of current interest – from the creation of a storage catalogue for the deeper subsurface to a set of technical rules for the assessment of soils in pipeline and cable planning or to a study on German mining activities abroad. This report will keep you up to date with national and international geoscience issues. It will also tell you about our projects in Africa, Asia and South America and about the challenges BGR employees take on.

The report emphasises the importance and pioneering nature of BGR's work for society and future generations.


A brief overview on important top themes:
Energy resources
GeneSys: An artificial heat exchanger for producing geothermal energy
Thermal remote sensing in Kenya's Rift Valley
NIKO: Oil and gas potential from shales
Mineral resources
INDEX: Metal resources in the deep sea
Study "Deutscher Auslandsbergbau" published
Groundwater
Helicopter surveys for the CLIWATproject
New global groundwater map at the scale of 1:50 Million
Groundwater comic for primary school children in Paraguay
Soil
New procedure to assess soil ability for cable laying and pipeline construction
Soil regions in Europe
Mobility of silver nanoparticles in soils
Final Disposal of Radioactive Waste
Georadar method used in Gorleben
BGR coordinates EU project on waste repositories

Subsurface Use, Geological Storage of CO2
Storage Catalogue of Germany
Methods for monitoring underwater gas leakages

Geoscientific Information and Principles
IQUAME: Development of a European Quaternary geological information system
Linking geodata: interoperability adds value

Nuclear Test Ban, Risk Analysis
Earthquake safety at german power station sites
BGR models transport of radioactivity in the atmosphere
Geohazard Assessment in Northern Pakistan
National/International Geoscientific Cooperation
Proof of origin for mineral resources from Africa
Certificates for responsible supply chains
GIRAF: Geoscience information to improve quality of life in Africa
Polar Research
CASE: New findings on the development of the Arctic Ocean
GEA I and II: Emergence and disappearance of a supercontinent

If you are interested in former reports of activies, please click here:
Contact
Phone:
+49 (0)511-643-3470