BGR Report – insights into current projects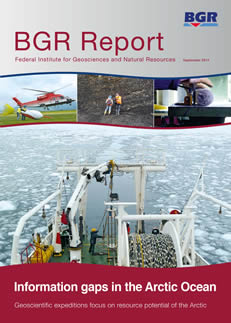 This BGR Report once again takes you on a journey to the fascinating world of geosciences and BGR projects.
Last year, for instance, a team of BGR scientists working on the PANORAMA project started to explore the raw material potential in Arctic seas. Currently, some of our scientists are conducting research in the Indian Ocean into the potential of polymetallic sulfides, which contain elements needed in high-tech applications such as computers or wind turbines. You will also learn interesting facts about the groundwater situation in a number of African countries and about the development of soil maps.
This BGR Report has four sections: the Projects section looks back at 2013; the Outlook section describes a number of major working programmes we are planning to start in the next few months; in the People and Projects section individual scientists are interviewed for an in-depth and personal look at their projects; and the Spectrum section rounds off this year's BGR Report with a look at additional highlights.
BGR Report is provided free of charge. It is also available on CD ROM and can be downloaded from the BGR website.



If you are interested in former reports of activies, please click here:
Contact
Phone:
+49 (0)511-643-3470