Natural gas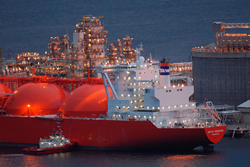 The Arctic Princess in the port of Melkøya/Norway Source: Statoil ASA
With a share of 24 % of global primary energy consumption in 2012, gas remains the third most important fuel behind oil and hard coal.
 Unlike oil, the availability of gas for energy generation in the next decades will not be limited by the reserves situation, even in the face of growing demand. Moreover, the successes achieved in the development of non-conventional gas deposits – primarily in the United States –  improves the global supply situation.
After enjoying high growth rates for many years, the LNG market declined again in 2012. This was largely attributable to the slow expansion of LNG capacities, and the inability to utilise the capacities of the existing facilities. The latter declined because of growing domestic demand, lower production volumes, and outages because of technical problems. This ultimately led to a shortage in supply and a significant rise in the price of LNG. With its integrated and growing supply network, Europe is connected to a large proportion of the global gas reserves via pipelines and LNG terminals. The European gas market therefore enjoys a relatively comfortable position.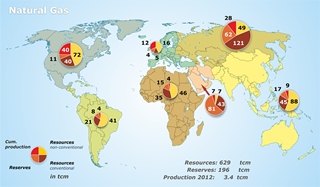 Total natural gas potential: regional distribution Source: BGR
BGR gathers and evaluates comprehensive information on the global distribution and availability of gas.
BGR explores the regional oil potential in sedimentary basins, as well as at continental margins, and develops new exploration methods or improves existing ones.


Further Information on Energy Resources
Current Projects Related to Hydrocarbon Gas