Natural gas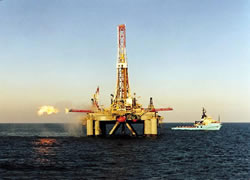 Gas discovery in the Nile Delta/Egypt: The flame is a clear evidence for the existence of natural gas Source: RWE-Dea AG
Natural gas was again the third most important fuel behind oil and hard coal in 2011, with a share of about 24 % of global primary energy consumption.
Global gas production in 2011 rose by 3 % to 3,337 billion m³ primarily because of the rise in demand in emerging economies. The largest percentile increase in production occurred in Turkmenistan with a rise of around 40 %. In terms of volume, however, the biggest increases were reported for the United States and Qatar. Unlike the United States which is primarily expanding production of non-conventional gas deposits, Russia increased its production of natural gas from conventional fields by 3 % in 2011 to produce 630 billion m³ – the second highest production level world-wide.
The global rise in natural gas consumption in 2011 of more than 2 % yearon-year to around 3.3 trillion m³ was covered by supplies. Although the demand in OECD countries decreased slightly, it rose further in emerging economies. The largest natural gas consumers were the United States, followed by the Russian Federation, Iran, China and Japan.
The global natural gas reserves have risen again year-on-year and were estimated at 195 trillion m³ at the end of 2011. Non-conventional natural gas reserves only account for a very small part of this figure.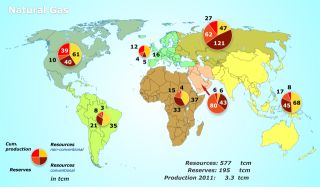 Overall natural gas potential: Regional distribution Source: BGR

The Federal Institute for Geosciences and Natural Resources (BGR) collects and evaluates accessible information regarding the world-wide distribution and availability of natural gas.
Furthermore, BGR assesses the regional natural gas potential of sedimentary basins both on- and offshore. In addition, BGR also develops new exploration methods and advances existing ones.
Further Information on Energy Resources
Current Projects Related to Hydrocarbon Gas