Natural gas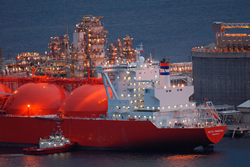 The Arctic Princess in the port of Melkøya/Norway Source: Statoil ASA
In 2013, natural gas was still the third most important source of energy after oil and hard coal, with a share of 23.7 % in global primary energy consumption. While Europe and the CIS consumed less natural gas, consumption in all other regions of the world rose, particularly in the Middle East.
From a geological perspective, natural gas is still available in large quantities, with global reserves currently amounting to around 198 trillion m3. Unconventional gas deposits are gaining in importance. Total global natural gas resources of commercially exploited conventional and unconventional deposits are estimated at 638 trillion m3, or 845 trillion m3 including aquifer gas and gas hydrate.
In Europe, natural gas production passed its peak in 2004. This has increased dependency on gas imports from the CIS, Africa and the Middle East. About 80% of global natural gas reserves are held by OPEC members or CIS countries. German imports of natural gas are pipeline-based, originating almost entirely from Russian, Norwegian and Dutch sources.
Despite the foreseeable increase in demand, the very high remaining natural gas potential will thus be able to safeguard global supply for many decades to come.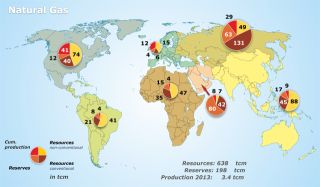 Total natural gas potential: regional distribution
BGR gathers and evaluates comprehensive information on the global distribution and availability of gas.
BGR explores the regional gas potential in sedimentary basins, as well as at continental margins, and develops new exploration methods or improves existing ones.


Further Information on Energy Resources
Current Projects Related to Hydrocarbon Gas