Crude Oil
The oil field Mittelplate in the tidal flat area of the German North Sea Source: RWE-Dea AG
With a share of around 33 % in primary energy consumption, crude oil is the most important source of energy globally, a position it is likely to keep in the foreseeable future.
In 2013, crude oil production rose by 1.6 % to a new all-time high of almost 4.2 billion t, while oil consumption in the same period rose by almost 2.5 %.
The remaining crude oil potential (reserves and resources) currently amounts to around 552 billion t. The volumes of unconventional crude oil (bitumen, extra heavy oil and oil from tight rocks (tight oil, shale oil)) totalled around 221 billion t.
Overall, the volume of crude oil consumed globally to date (around 175 billion t) exceeds the conventional reserves currently reported (around 170 billion t).
Crude oil is the only non-renewable that will probably not be able to keep up with growing demand in the coming decades.
Given the length of time required for a transition in the energy sector, the timely development of alternative energy systems will therefore be necessary.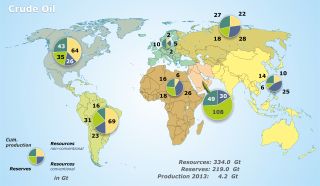 Total crude oil potential: regional distribution
BGR gathers and evaluates all of the accessible information on the global distribution and availability of crude oil.
BGR explores the regional oil potential in sedimentary basins, as well as at continental margins, and develops new exploration methods or improves existing ones.


Further Informations on Energy Resources