Crude Oil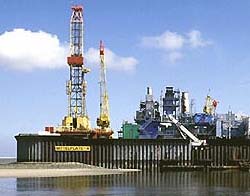 The oil field Mittelplate in the tidal flat area of the German North Sea Source: RWE-Dea AG
With a proportion of around 33 per cent of primary energy consumption, crude oil is the most important fuel world-wide, and will also remain so in the foreseeable future.
Crude oil production rose around 3.6 % in 2011 to reach a new all-time high of almost 4,140 million t, whilst oil consumption rose almost 2 % over the same time period to today's figure of 4,122 million t.

The remaining oil potential (reserves and resources) at the end of 2012 totalled around 548 billion t. The volumes of non-conventional oil (bitumen, extra heavy oil and light tight oil) totalled around 218 billion t. The OPEC countries account for around 47.5 % of the remaining potential, whilst the Austral-Asia, Africa and Europe regions combined only host much smaller quantities accounting for less than 20 %.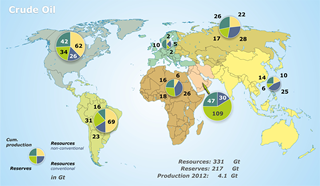 Total crude oil potential: regional distribution Source: BGR
BGR gathers and evaluates all of the accessible information on the global distribution and availability of crude oil.
BGR explores the regional oil potential in sedimentary basins, as well as at continental margins, and develops new exploration methods or improves existing ones.



Further Informations on Energy Resources