Crude Oil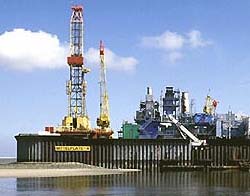 The oil field Mittelplate in the tidal flat area of the German North Sea Source: RWE-Dea AG
Crude oil is the most important primary fuel accounting for 34 % of the world's primary energy consumption. This will probably remain so in the foreseeable future.
In 2011, crude oil production and oil consumption rose again although at a slightly slower rate than in the previous year following the economic and financial crisis in 2008. Nevertheless, oil production at 3,998 million tons and the consumption of mineral oil at over 4 billion t reached all-time highs in 2011.
Overall, the remaining potential of crude oil (reserves and resources) at the end of 2011 totalled around 585 billion t. The volumes of nonconventional oil (oil sand, extra heavy oil and shale oil) accounted for 258 billion t of this total. Almost 50 % of the remaining potential is accounted for by the OPEC states, and around 20 % are accounted for by the Austral-Asia, Africa and Europe regions.
Total crude oil potential: Regional distribution Source: BGR


The Federal Institute for Geosciences and Natural Resources (BGR) collects and evaluates accessible information regarding the world-wide distribution and availability of crude oil.
Furthermore, BGR assesses the regional crude oil potential of sedimentary basins both on- and offshore. In addition, BGR also develops new exploration methods and advances existing ones.
Further Informations on Energy Resources