Nuclear fuels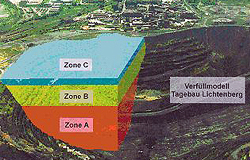 Refilling the former uranium ore open mine in Lichtenberg, Ronneburg, Thuringia Source: Wismut SDAG
Uranium is a natural component of rocks in the crust of the earth. For an economic recoverability, uranium has to be enriched in the rocks. Uranium deposits can develop during nearly all geological times based on very different conditions of formation. Nuclear power makes use of the energy that is released by nuclear fission of the natural radionuclide U-235.
The situation in 2011 was largely influenced by the accident at the Daiichi nuclear power plant in Fukushima, Japan, on 11 March 2011. The dramatic events in Japan initiated a global debate on the development and future of nuclear power. In Germany, the German parliament passed legislation on 30 June 2011 to withdraw from nuclear power production, and this came into force on 6 August 2011 with the thirteenth modification of the Nuclear Act. The act stipulates that the last nuclear power plant will be shut down in Germany by 2022 at the latest.
The 437 nuclear power plants operating worldwide in 2011, with a gross output of 389.4 GWe, consumed around 62,552 t natural uranium. There is enough uranium potential available from a geological point of view to satisfy global demand in the coming decades even in the light of the foreseeable growth in demand.
The sustainable development of nuclear power is presently determined by the difficulties of depositing nuclear rather than by problems with the supply. The costs of closing production centers, e.g., the WISMUT SD AG of Germany, affect the national economies, especially the new states of the former Soviet Union.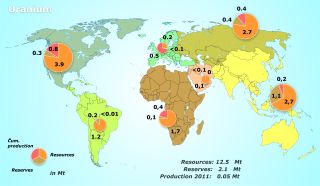 Total potential uranium: Regional distribution Source: BGR
Cost-intensive and technically difficult tasks are the removal of the relics of the cold war arms race period, cleaning up nuclear test sites, scrapping nuclear weapons or closing old production facilities. Today, the know-how derived from former prospection and exploration of uranium is increasingly being applied in environmental protection.
Accordingly, the fields of activity of the Federal Institute for Geosciences and Natural Resources (BGR) have changed. At the moment, advising the German Federal Government and international authorities in the fields of decontamination of mining sites and radiation protection from natural radionuclides is of prime importance.
Further Information on Energy Resources
Technical papers: