Energy resources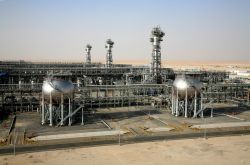 Hawiyah LNG Plant, Saudi Arabia Source: SaudiAramco
Energy resources like crude oil, natural gas, coal and uranium have become essential not only for our everyday life, but also for the economy. They supply us with electricity and heat, are used as fuel and are processed into numerous products. They are fundamentally important to keep the economy running and to maintain our living standard. More than 90 percent of the German primary energy consumption is based on these fuels.
The large potential of Geothermal Energy contributes an only limited amount to the energy supply, for the time being.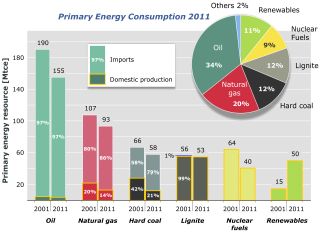 Comparison of the use of primary energy sources, and the relationship between domestic supply and imported commodities for Germany from 2001 to 2011 (after AGEB 2012, LBEG 2012) Source: AGEB 2012, BGR-Database

The far greatest share of fuels consumed in Germany though is imported from foreign countries. Today, already 97 percent of the crude oil, 86 percent of the natural gas and, in the meantime, about 79 percent of the hard coal consumed in Germany is imported. The dependency on the import of fuels will probably increase in future. However, it is generally accepted, from a geological view that the amount of the fossil energy resources are limited, although it is a matter of debate how many resources are left.
The task of fossil fuels is to bridge the gap for a secure transfer on energy supply which is based on renewable energy.
Own scientific research and analyses of the Federal Institute for Geosciences and Natural Resources (BGR) will help to secure the supply of the Federal Republic of Germany with energy resources. BGR reports on a regular basis about the fossil fuels in detailed reports, such as "Energy Resources 2009" or the more recent report of 2012 "Reserves, Resources and Availability of Energy Resources 2012".

Additional knowledge is gained in many projects with developing countries on site and yet unused energy resources are developed and brought into use (Technical Cooperation). BGR is a member of the workgroup "Energie für Deutschland" of the World Energy Council (WEC).
Further Information on Energy Resources: