Energy resources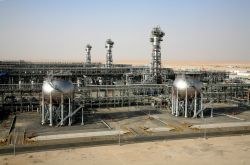 Hawiyah LNG Plant, Saudi Arabia Source: SaudiAramco
Energy resources – which mainly include the fossil fuels oil, gas, coal and nuclear fuel – have become an integral and indispensable part of our daily lives, as well as the foundations for the whole economy. They supply electricity and heat, provide the propulsion for vehicles, and are reprocessed into a huge number of different products. Energy resources are therefore of absolutely fundamental importance for the proper functioning of the economy and the maintenance of our living standards. Crude oil, natural gas, coal and uranium account for around 86 per cent of primary energy production in Germany. Geothermal energy only makes a very small contribution to global energy supplies at the moment, but has enormous potential.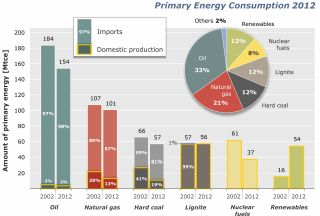 Comparison of the use of primary energy resources and the relationship between domestic supply and imported commodities for Germany from 2002 to 2012, as well as relative proportions for 2012 (after AGEB 2013, LBEG 2013) Source: AGEB 2013, BGR-Database

Almost all of the fossil energy resources required by Germany are imported from abroad. Imports account for 98 per cent of the oil, 87 per cent of the gas and around 81 per cent of the hard coal. This dependence on imported energy resources will intensify further in future despite the fact that the demand for energy has not risen for many years and has a slightly downward trend – the reason is the decline in domestic production. Global demand, however, is continuing to grow.
Although there are still very large deposits of energy resources around the world, there is no doubting their finite size. Fossil fuels therefore have to serve as a bridge-energy to safeguard the transition to an energy supply system based on renewable energy sources.
By carrying out its own scientific research and analyses, BGR improves the understanding of this scientific field of endeavour, and makes a contribution in this way to safeguarding Germany's supplies of energy resources. BGR is currently involved in the "NiKo" project (which stands for non-conventional hydrocarbons) which investigates the potential of shale gas and light tight oil in Germany. The study will provide information for a reliable estimate of the domestic resources of non-conventional oil and gas fields. Because of general concerns about the potential risks involved with the exploration and development of shale gas deposits in particular, the project which is scheduled for completion in 2015 also looks at aspects involving production technology, sustainable use, and environmental compatibility.
BGR reports regularly on the fossil fuel situation in its annually updated study "Reserves, resources and availability of energy resources" (Energy study 2013).
BGR is a member of the "Energy for Germany" working group of the World Energy Council (WEC).
Further Information on Energy Resources: