Mining Economics and Sustainability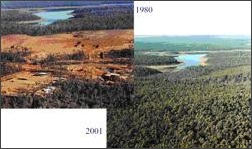 Huntley Bauxit Mine, Australia Source: Alcoa World Alumina, Australia
As one of the worlds largest mineral consumers Germany imports mineral resources from more than 160 countries. A great share of these resources originates from developing countries. A responsible management of mineral resources includes sound and responsible mining in producing countries. BGR therefore supports resource rich developing countries (e. g. Vietnam, Mongolia, Namibia) to improve their mining sector. We strengthen mining authorities in terms of improving their mining inspectorate as well as in implementing international standards on health, safety and environment in mining. Furthermore treatment of waste and remediation of contaminated sites are relevant issues.
In resource rich conflict areas a well-regulated mining sector is of uppermost importance to prevent financing of conflict from production and trade of mineral resources. BGR therefore supports control and transparency in the mining sector through certified trading chains of mineral resources to improve resource governance in the central Africa region.
We follow the development of the mining sector worldwide which enables us to assess the specific potential of mining. The evaluation of mining projects is a fundamental basis for decisions of investors as well as of governments of resource rich countries. BGR therefore assesses the potential of individual projects in an early stage and also the potential of countries: 
The German government supports the economy through programmes for foreign investment also in the mining sector. On behalf of the Federal Ministry of Economics and Technology BGR assesses the planned investment in a mining project from a technical point of view regarding German mineral supply, economics and sustainability.
A basis for economic evaluation are resource prices, which BGR provides on a regular basis.
Projects:
Economic Evaluation of Mining Projects
Mining and Sustainability in Technical Cooperation
Certified Trading Chains in Mineral Production
Research Projects
Contact
Phone:
+49-(0)511-643-2370