BGR Report – Raw material monitoring assists companies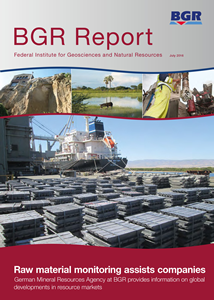 Germany is dependent on imports for its metalliferous natural resources. Although prices have been declining significantly in recent months, numerous raw materials such as platinum, cobalt and rare earth elements continue to be exposed to price and supply risks.
To ensure that German industry can respond better to this situation in their procurement activities, the German Mineral Resources Agency (DERA) at BGR has developed a raw material monitoring system on behalf of the German government. DERA experts have configured a screening method for the early identification of possible procurement risks. This is the platform which enables German companies to gain the specific advice they require. All of the most important information on this issue is bundled within DERA´s internet portal
(www.deutsche-rohstoffagentur.de). Find out more on this raw material monitoring in the BGR Report-interview on page 70.
BGR also provides its expertise in other important fields with great societal relevance. BGR has been advising the national commission on "Storage of High-level Radioactive Waste" since 2014. Due to their comprehensive research activities in the field of radioactive waste disposal, BGR scientists are important technical experts to which the commission can turn to for geological information and advice. Read more about this in the BGR Report on page 6.



Further editions of the BGR Report:

If you are interested in former reports of activies, please click here:
Contact
Phone:
+49 (0)511-643-3475
Fax:
+49 (0)511-643-533475