Soil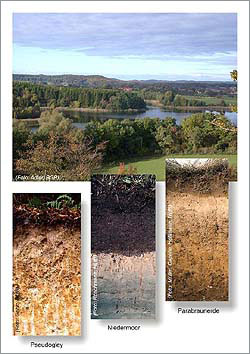 Rummelsberg near Brodowin Source: Adler (BGR) and LBEG
Soils are the 'living skin' of our Earth. Thanks to weathering over millennia, they now form an indispensable basis of life for humans and a habitat for flora and fauna, whilst at the same time being a medium which counterbalances the hydrological and material cycles.
For example, with their filtering and buffering properties, they make a decisive contribution to conserving groundwater. The water trickles through the various soil layers and is thereby cleaned by chemical and biological processes. Inorganic and organic compounds are bonded or metabolised in the soil. In this way, noxious substances such as pesticides and heavy metals can be rendered harmless, whilst at the same time, however, accumulating in the soil. Even an alteration in the pH value because of acid inputs – from acid rain for example – can be counterbalanced to a certain extent by the buffering qualities of the soils.
Improper use results in the soils increasingly losing their functions as a wildlife habitat and nutritional basis; they are degraded or are completely destroyed by, for example, erosion. Sealing off the ground by building homes or streets on it also leads to soils being forever lost for other purposes to an irresponsibly high extent.
Our responsibility lies in ensuring that even in the future there is enough healthy soil available. The requirement for sustainable soil use and adequate soil conservation is, therefore, applied in a targeted manner wherever it is essential to improve knowledge regarding the distribution and properties of soils via information systems. A further focal point is the development and application of methods to evaluate soil information collected with the aim of sustainable soil use. The activities of BGR in the soil domain are characterized by the involvement of neighboring geoscientific disciplines, in particular geology, hydrogeology, mineralogy, geochemistry and geophysics.
Contact 1:
Phone:
+49-(0)511-643-3733 und +49-(0)30-36993-274
Contact 2:
Phone:
+49-(0)511-643-2814