International nuclear repository research = Internationale Endlagerforschung
Country / Region: independent
Begin of project: April 8, 2014
End of project: December 31, 2021
Status of project: January 8, 2018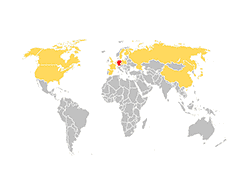 International nuclear repository research Source: BGR
The main aspects of BGR's application-oriented nuclear repository research involve geoscientific and geotechnical issues. In addition to the national exchange of scientific know-how, it is also indispensable to be involved in international cooperation projects. BGR therefore participates in numerous international research projects, cooperation activities, and committee work.
BGR uses the international cooperation activities and the technical-scientific exchange of experience with international experts to enlarge its understanding of geoscientific and geotechnical technologies with respect to criteria and methods for the investigation of alternative host rocks in Germany, and to underpin its research findings.
BGR has already acquired comprehensive and internationally renowned expertise on salt as a host rock. It is important to ensure that this know-how is kept up to date with the scientific and technical state of the art. In doing so, BGR expands its understanding of new subjects through the cooperation with national and international partners such as horizontally bedded salt deposits and their barrier properties.
In addition to research into nuclear repositories in salt, BGR is strengthening its investigations into alternative host rocks, especially claystones, crystalline rocks and geotechnical barriers (e.g. bentonite), to acquire the same high level of expertise in these fields as well. There are currently no underground research laboratories (URL) in Germany for investigating nuclear repositories for radioactive waste. BGR is therefore intensively involved in international URLs in Switzerland, France and Sweden.

BGR is involved in additional cooperation activities at an international level, including: