Natural gas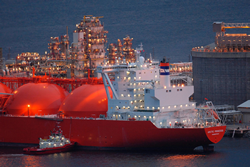 The Arctic Princess in the port of Melkøya/Norway Source: Statoil ASA
23.8 % of global primary energy consumption was covered by natural gas which again was the third most important energy resource in 2015 behind crude oil and hard coal. Because of the high remaining natural gas potential, global supplies with this natural resource can still be maintained for several decades even if demand grows more strongly. Although reserves have again declined overall, almost two thirds of production was compensated for by additions to the reserves.
Global gas trading increased again in 2015. The closer integration of the various natural gas markets, attributable to the growing supplies of LNG, has led to a global convergence in prices. Higher quantities of LNG – in particular from the USA and Australia – will become available on the market in the years to come, giving rise to more competition, and therefore a more comfortable supply situation. Germany and Europe, with their integrated and growing supply grids, are connected up to a large part of global natural gas reserves via pipelines and LNG import terminals.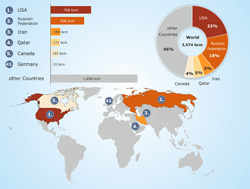 The biggest natural gas producing countries in 2015 Source: BGR
Despite a decline in drilling activity, the USA increased its shale gas production until the beginning of 2016 owing to improvements in efficiency and technological advances. Although production has declined since then in the face of the continuing low natural gas prices, a further rise in production can be expected in the future. The first LNG export terminal on the continental United States was also commissioned at Sabine Pass/Texas in early 2016. In addition to South Africa and Asia, Europe has also been supplied with liquefied natural gas from shale gas production. Australia also shipped its first cargo of liquefied coal bed methane to Asia at the beginning of 2016.


Further Information on Energy Resources
Current Projects Related to Hydrocarbon Gas