Annual Report. Reserves, Resources and Availability of Energy Resources 2011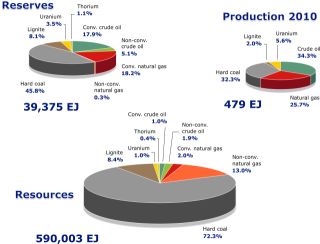 Proportions of non-renewable fuels in production, reserves and resources world-wide at the end of 2010. Source: BGR
The Annual Report 2011 "Reserves, Resources and Availability of Energy Resources" is based on data from 2010 and forms an update of the previous Annual Report 2010, and the detailed report "Energy Resources 2009" published by BGR.
Fossil fuels (crude oil, natural gas, coal, uranium) account for about 85 % of the global energy consumption.
Despite the growing amount of renewable energy, fossil energy fuels will still dominate.
Considering the limited availability of non-renewable energy resources this raises the question of how long fossil fuels will be available for. On the other hand the increasing awareness of the society regarding environmental issues requires solutions for the magnitude of substitution of the individual fuel in the long term.
Reserves (i.e., the amount currently technologically and economically recoverable) of non-renewable fuels amounted to about 39 375 Exajoule (EJ) at the end of 2010.
Resources (i.e. detected quantities that cannot be profitably recovered with current technology but might be recoverable in the future, as well as quantities that are geologically possible but have not yet been found) of non-renewable fuels amounted to about 590 000 EJ by the end of 2010.
The ratio of annual production to reserves and to resources is about 1 to 82 to 1232. The global reserves of fuels, except those of crude oil, indicate that the long-term energy demand will be adequately covered.
Download: Annual Report. Reserves, Resources and Availability of Energy Resources 2011 (PDF, 8 MB)
Contact
Phone:
+49-(0)511-643-3200
Fax:
+49-(0)511-643-53-3200