BGR Energy Study 2017 - Data and Developments Concerning German and Global Energy Supplies - Summary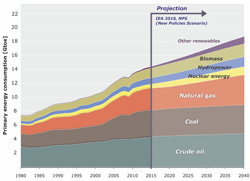 Development of global primary energy consumption per energy resource (BP 2017, IEA 2016) and a possible scenario for future developments (New Policies Scenario, IEA 2016) (Hydropower calculated acording to BP 2017) Source: BGR, IEA 2016, BP 2017
In terms of the geology of natural resources, the reserves of crude oil, natural gas, coal and uranium will be capable of continuing to cover increasing demand for many decades. Together with the renewables, this means that energy supplies can be maintained in the long term. Fossil fuels are still indispensable as the main energy sources in the short to medium term, and it is essential that their supplies match the demand. The overall supply situation for all energy resources is currently considered to be comfortable. The production of crude oil for instance primarily comes from conventional fields which were developed prior to the continuing low price phase affecting oil prices. Without a quick and continuing rise in the price of crude oil, it appears unlikely that investments will be made in new projects to the extent required to smoothly cover a rise in global demand. It remains to be seen whether the relatively flexible crude oil production from shale deposits can act as an "economic swing producer" to bridge any potential shortages in supplies. Given the complex and unstable geopolitical situations affecting many crude oil producers and production regions, it will also be necessary to include unforeseeable problems affecting the global crude oil supply situation in the calculations.
Whilst renewables boast the highest growth rates amongst all of the energy resources in terms of power production, their share of total primary energy consumption is still only growing slowly. Instead of already displacing fossil energy resources today, they are merely covering the rise in energy demand, supporting the withdrawal from nuclear power production, and ameliorating urgent environmental problems. One can therefore expect the continuing existence of a "dual energy system" in the next years and decades, where energy supplies are maintained jointly by fossil fuels and renewable energy.
The BGR Energy Study 2017 provides information in the form of data and facts on the status and developments concerning German and global energy supplies with respect to all energy resources: crude oil, natural gas, coal, uranium, and renewable energy, including deep geothermal energy. In the "Energy resources in focus" section of this year's Energy Study, a more detailed look will be taken at "Lithium – A key natural resource for the energy and mobility transition", "Underground coal gasification: background, potential and risks" and "Options for utilising associated gas – situation analysis in Algeria and Cameroon".
Download: BGR Energy Study 2017. Data and Developments Concerning German and Global Energy Supplies (PDF, 24 MB)