Stratigraphy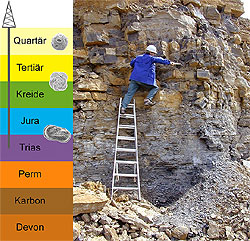 Sampling for paleontological and biostratigraphical analysis Source: BGR
Micropaleontology, the study of microfossils, is a branch of paleontology. Microfossils are fossils generally smaller than 1 mm. Their study requires the use of light or scanning electron microscopy.
Some remains of ancient life-forms are preserved as fossils in various sediments and provide information on the changing abundance and variety of species, but also on the environmental conditions during past eras. Species that only lived within short periods of the geological history, but were widely spread, act as index fossils with which, e.g., the age of sedimentary deposits can be determined (biostratigraphy). The analysis of fossils is also essential for the reconstruction of past environments (paleoenvironment), the distribution of land and water (paleogeography), the exploration of the sea (paleoceanography) and the development of climate (paleoclimate).
Application of micropaleontology at the BGR
Micropaleontologists of the Federal Institute for Geosciences and Natural Resources focus mainly on research of microfossils from the Mesozoic (251 to 65 million years ago) and the Cenozoic (65 million years ago to recent) in Germany and the whole world. We have specialized on selected microfossils, that are essential for accurate age determination of sedimentary rocks (biostratigraphy).
We carry out biostratigraphical projects at and around geological boundaries in interdisciplinary working and research groups within our company, as well as in cooperation with other geological surveys and universities.
The main task is the biostratigraphical examination of the deeper part of the basement, in order to assess its resource, reservoir and waste disposal potential.
In addition, micropaleontological studies are included in various projects, e.g., in marine geology:
In the Arabian Sea, micropaleontologists study coccolithophores from sediment traps and reconstruct paleoenvironmental conditions using an actualistic approach.

In the German North Sea, layers of the Neogene are to be dated biostratigraphically using foraminifers, dinocysts and pollen and spores.

In the Indonesian Sea offshore Sumatra and Java scientists are studying the effect of methane dischange on the foraminiferal fauna and reconstructing paleoenvironmental conditions using coccolithophores.


Offshore Chile, living coccolithophores are being studied biogeographically.
Since 1979, another important task of the paleontological working group has been the biostratigraphical investigation of the German repository sites Morsleben and Gorleben. In the area of Gorleben, intensive research on the Quaternary und Tertiary cover deposits was carried out. In the mid-nineties, the cover deposits of Dömitz-Lenzen, situated north of the Elbe, were examined. The micropaleontological working group also coordinated the final investigations on the geology, structural geology and the biostratigraphy of the cover deposits of the Gorleben salt dome.
The micropaleontological-biostratigraphical studies are also important for the Geological mapping projects of Lower Saxony and in other fields of applied geology (economic geology, hydrogeology, engineering geology).
The various microfossil groups are extracted from the sedimentary rock in which they are embedded by fossil-specific preparation techniques in several laboratories. The analysed microfossils are stored in the geoscientific collection. The corresponding data are available in the database PaStraLa.
Our products:
Technical and scientifical investigations on selected microfossil groups


Biostratigraphy


Paleogeographical reconstruction


Micropaleontological database


Graphical database


Publications, reports, lectures
Contact
Phone:
+49-(0)511-643-2795