Borehole Map of Germany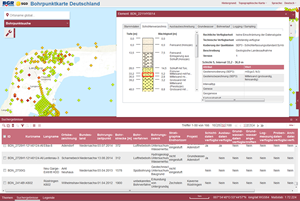 User interface of the web client "Bohrpunktkarte-DE" Source: BGR and SGD

All mechanically drilled boreholes in Germany have to be registered at the German Geological Survey Organizations according to the "natural mineral deposit act (Lagerstättengesetz)". The 16 GSOs are responsible for data storage, processing and transmission of all borehole related data, they are working on their individual responsibility without consulting other GSOs. This heterogenity as well as the distribution of the data on different portals prevents an easy borehole data exchange between the GSOs or other parties.

To meet this challenges end of 2009 a project was initiated to set-up a "Borehole Map of Germany" as an internet application. The main objective of this application was to bring all free borehole data from the different existing databases of the GSOs together to visualize them in one nationwide application.

The Borehole Map of Germany provides a search based on main borehole data attributes. Furthermore the user can filter und visualize drillings with free available strata data (geological profiles).
The following information are provided for free:
header data (e.g. name, point of contact, drilling length an coordinates)
strata data with detailed information on stratigraphy, petrography and genesis (visualized as a geological profile)
groundwater observation and measurements
metadata for logging and sampling
borehole installation data
technical drilling information
These information are provided through standardized geodata services (Web Feature Service, WFS) driven by the GSOs. This architecture ensures on the one hand data actuality and on the other the connection from OGC-Clients to borehole data via interoperable interfaces.
The key to cross-platform usage or interoperability is the definition of a standardized borehole information exchange format within the WFS-Interface. This is called Borehole Markup Language Version 3 (BoreholeML3). The BoreholeML3 is an open source XML derivative designed especially for encoding borehole data. The exchange format is developed by the GSO and it is used from the Borehole Map of Germany in the background Please also see www.infogeo.de.
Further information
Contact 1:
Phone:
+49-(0)511-643-3455
Contact 2:
Gerhard Bernhard
Arns-Krogmann
Phone:
+49-(0)511-643-3343