Geoviewer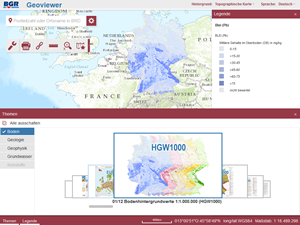 Our Geoviewer allows the user to visualize and to combine BGR's web map services (WMS) based on data of various disciplines.

The info (i) for every map contains a link to the Produktcenter, where the relevant geodata are available for download.

The offered map data cover whole Germany and are generalized for different scale intervals between 1:200 000 and 1:5 000 000. Thus some map services are displayed only for fixed scale ranges depending on data sources and disciplines. You will get the visible range by zooming into the map or zooming out of details respectively.
The Geoviewer is best used with browsers as Mozilla Firefox or Internet Explorer.
At Geoviewer's upper menu bar the "Help" displays a user manual explaining handling and its functionalities
Mobile devices
The layout will automatically adjust itself for display on smartphones and tablets.
Notes about accessibility
Unfortunately web map applications aren't completely accessible especially to persons with visual impairments. Nevertheless we attempt to provide the Geoviewer with functionalities that disabled persons can also work with this web application. Therefore all Geoviewer's functions can be executed with the keyboard.