Petroleum Assessment of the Arctic North Atlantic and Adjacent Marine Areas
Country / Region: Greenland Sea, Barents Sea
Begin of project: March 1, 2013
End of project: December 31, 2020
Status of project: September 1, 2016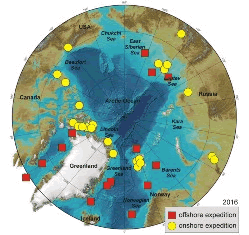 With its land based and marine Arctic research, BGR has contributed for five decades to the understanding of the geological development of the circum Arctic continental margins Source: BGR
Some of the world's greatest raw material deposits are supposed to lie in the hardly explored regions of the Arctic. But is it really true that 25 % of the oil and gas deposits undetected so far lie in the Arctic, as estimated by the United States Geological Survey (USGS). Today's state of knowledge on this potential is based on probability calculations. Only very few data are available on the subsoil of this mostly ice-covered ocean that can help to carry out geologically founded potential estimations.
Therefore, with the project PANORAMA (2013 – 2020), the Federal Institute for Geosciences and Natural Resources (BGR) will clarify open questions in key areas of the Norwegian Sea and the adjacent areas. The research program is focused on obtaining, with geological,organic-geochemical and geophysical methods, the necessary information on the subseabed structures of the northern North Atlantic and the adjacent northern Barents Sea in order to reconstruct the deposition history of the sediments at the seafloor since the beginning of the opening of the Arctic Ocean about 50 million years ago. Geomicrobiological methods will be used to investigate largely unknown carbon degrading microbiological communities in the sediments of this region. The knowledge about the microbiological processes can be useful for an estimation of possible ecosystem consequences of the use of arctic resources.
BGR's applied research contributes to a knowledge-based estimation of the chances and ecological risks that result from the possible use of energy resources from the arctic area. The acquired information provides a basis for consulting services for politics, economy and the public.
Project contributions:
Literature:
Germany's Arctic policy guidelines
Cruise Report BGR13-2 Project: PANORAMA-1 Geophysics, Geomicrobiology. RV OGS EXPLORA 16 August – 17 September 2013 Tromsø – Longyearbyen (PDF, 19 MB)
Cruise Report BGR15-2 Project: PANORAMA-2 Geophysics, Geology and Geomicrobiology. RV OGS EXPLORA 15. August – 20. September 2015 Tromsø – Longyearbyen (PDF, 20 MB)