Mining and sustainability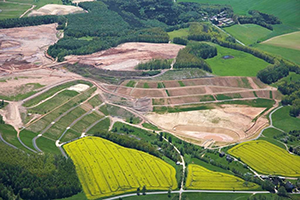 Norddamm and Waldhalde, May 2013 Source: Wismut GmbH
As one of the world's largest mineral consumers, Germany imports mineral resources from more than 160 countries. A responsible management of mineral resources includes sound and responsible mining in producing countries and due diligence in its associated supply chains. BGR therefore supports resource rich developing countries (e. g. Laos, Myanmar, Mongolia, Democratic Republic of Congo, Rwanda) to improve management of their mining sector.
We strengthen mining authorities to develop their mining inspectorate as well as in the implementation of international standards on health, safety and environment in mining.

The BGR acknowledges the special challenges that are associated with the procurement of raw materials from artisanal and small-scale mining (ASM) which is prominent for high-value minerals such as tantalum, tin or gold.
BGR supports partner countries regarding formalization and sustainable economic development of the ASM sector.
In resource rich conflict areas, a well-regulated mining sector is of uppermost importance to prevent financing of conflict from production and trade of mineral resources. The BGR therefore supports certification of raw materials and traceability along mineral supply chains and contributes to the development and implementation of international requirements and recommendations, for example of the OECD.
We provide information on current developments and requirements regarding due diligence in mineral supply chains such as the US Dodd Frank Act or the ongoing development of the conflict mineral regulation of the European Union. In certain regions the ASM sector is particularly affected by the impact of due diligence requirements. Therefore, the BGR helps implementing measures to support the procurement of responsibly mined raw materials from the ASM sector in accordance with international requirements. There is an increasing interest for sustainable production also in the mineral sector.

BGR is research partner in a project to improve the standard setting for sustainable produced mineral resources NamiRo (Sustainably produced mineral resources) which analyzes internationally accepted sustainability requirements with regards to mining and mineral supply chains and their implementation. A focus of our research will be environmental requirements.
Sustainability in the mining sector is based on economic viability of mining projects, not only for investors but also for resource rich countries in order to assess the potential of mineral deposits for strategic decisions on future development. The BGR supports partners in developing countries with knowledge and information on the evaluation of mining projects as in Tajikistan (e.g. through indices of project evaluation) and on the exploitation potential of mining residues, such as waste dumps and tailings (e.g. in Chile and Germany).
Selected Projects:
Selected Studies:
Selected Presentations:
Contact
Phone:
+49-(0)511-643-2370