Evaluation system for an efficient and responsible exploitation of mineral deposits
Begin of project: December 1, 2013
End of project: December 1, 2016
Status of project: May 13, 2016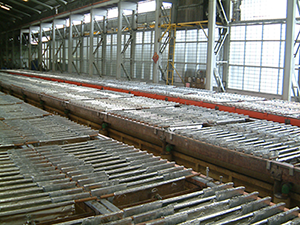 Electrolytic refining on Bangka leads to an efficient utilization of tin Source: BGR
Natural resources are the basis for all economic production processes, yet, technical availability is limited. For this reason, a sound and responsible management of resources and their efficient utilization is mandatory especially against the backdrop of demographic growth and economic expansion.
A comprehensive survey of resource-efficiency in general has to consider the whole product lifecycle including the primary production of raw materials. Efficient utilization of a deposit can be linked to an increased energy and material consumption during the extraction of resources. On the contrary, energy and material consumption might decrease during production when only specific parts of a deposit are being extracted, e.g. only sections containing high grades, however, the utilization of the deposit is still deemed inefficient.
Aim of the project is the development of methods which evaluate and assess the sound and responsible extraction of a deposit under consideration of important mining parameters, indexes and key performance indicators.
Following guiding questions should be kept in mind:
How can a resource-optimized utilization be defined on a deposit level?
Is it possible to identify "hot spots" of inefficient utilization of current deposit potential?
How can an increase of energy and material efficiency be evaluated from a socio-economic point of view? How can this be assessed in the context of sustainability?
Are current framework conditions sufficient to foster resource efficiency on both a deposit and a global level?