Deutsche Rohstoffagentur

[German Mineral Resources Agency]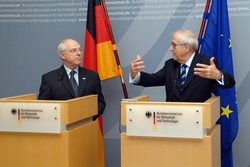 German Economics Minister Rainer Brüderle with Dr. Carsten Kreklau (Federation of German Industries, BDI) Source: BMWi

In his government policy statement on 23rd of April 2010, Federal Minister of Economics and Technology Brüderle announced: "…It is important, that we increase transparency in the resource markets. For this purpose, we will expand the Federal Institute for Geosciences and Natural Resources to be the central resource agency for the German economy…"


Welcome to the contact office of the German Mineral Resources Agency in the Federal Institute for Geosciences and Natural Resources (BGR).

Based on the expertise and infrastructure of the BGR in the field of mineral resources, a strategy for the German Mineral Resources Agency is currently developed and subsequently implemented incrementally.
However, you are now welcome to address your questions on the availability and developments of the mineral resource markets to us.


Moreover, we would like to invite companies which are producing or processing mineral resources, medium and small-sized enterprises in particular, to describe their challenges and needs to us.
More information:

Press release, 07.05.2010 (in German)

Mineral Resources
Contact
Phone:
+49-(0)511-643-3200
Fax:
+49-(0)511-643-53-3200
Office hours: Monday to Friday from 9 a.m. to 5 p.m. (Answering machine at all other times)