Mineral availability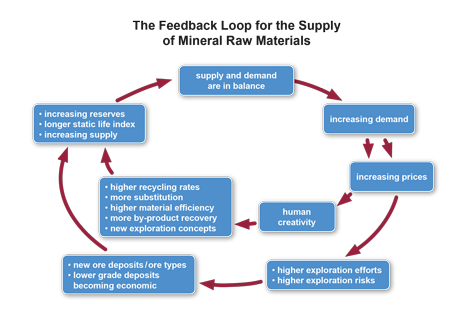 Source: BGR
Since the early 20th Century the mining industry and the commodity trade started to globalize. In terms of supply and demand patterns the commodity markets behaved strongly cyclical. Concerns about the secure and sustainable raw materials supply for industrialized nations and the world economy were raised over several periods in the past and accompanied by government and industry measures to avoid supply bottlenecks and trade distortions.
With the beginning of the 21st Century and increasing consumption of mineral raw materials in the emerging industrial nations such as Brazil, Russia, India and China (BRIC) our society faces new challenges to meet the rising demand in the longer term. From a purely geological point of view the supply of mineral resources is largely sufficient. However, in the short to medium term the technical provisions for supply may cause supply bottlenecks.
The existing high price volatility for mineral raw materials and supply risks therefore limit a reliable sourcing and planning. Price and supply security mechanisms in procurement, compliance with environmental and social standards in the supply chain as well as maintaining functioning market mechanisms in the commodity trade are therefore increasingly important.
For this reason, the ongoing assessment of the international mineral markets is important to identify even short-term supply risks and necessary countermeasures as early as possible. Therefore, the BGR continuously observes market developments and maintains a mineral resource information system to assess the markets and to advice industry and politicians. In addition, BGR carries out studies and projects about the national and international raw material markets also in cooperation with partner institutions and countries.
Ongoing Projects
Contact
Phone:
+49-(0)511-643-2536