Polar research at the Federal Institute for Geosciences and Natural Resources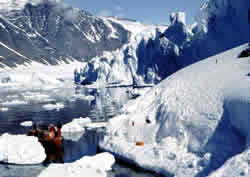 Geological exploration of the Robertson Bay coast, northern Victoria Land, Antarctic Source: BGR
The ice-covered and remote Polar Regions are still insufficiently known. The exploration of the Antarctic continent and the ice-covered Arctic oceans and the surrounding continental margins are however necessary to understand the interactions of solid earth, oceans, glaciations, atmosphere, and biosphere. Geoscientists of the BGR systematically contribute to the knowledge of the geological and structural edifice of the Polar Regions, which involves also the application of geophysical methods particularly in unexposed areas.
The main tasks of polar research activities of the BGR are:
Consultation of the German federal government and participation in national and international polar research panels


Research activities within the frame of the polar research program of the federal government, which concentrate on the study of the earth's crust including the Antarctic continental margins


Participation in securing the supply of the Federal Republic of Germany with mineral resources by exploration of the margins of the Arctic oceans and the evaluation of their resource potential


Planning, organisation, and realisation of expeditions both in the Antarctic and Arctic embedded in national and international co-operations


Development of special measuring systems for the use in Polar Regions.
The work of the BGR makes a major contribution to the maintenance of the consultive status of the Federal Republic of Germany within the Antarctic Treaty system and to the fortification of the German voice in economical, environmental and research-political issues for the Arctic regions.
Polar research activities of the BGR have a tradition of nearly 30 years. By the end of 2004, a total of 14 marine geophysical expeditions and 27 geoscientific land-based expeditions were organised and accomplished in both Polar Regions. The BGR cooperates with German and foreign universities, Geological Surveys and Polar research institutes. Funding of Polar research activities at German universities is provided by Deutsche Forschungsgemeinschaft (German Research Foundation).
Contact
Phone:
+49-(0)511-643-3137