GEOTHERM Programme - Promoting the Use of Geothermal Energy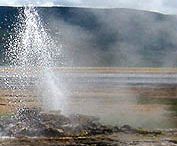 The German development cooperation has taken initiative to support partner countries in assessing geothermal resources. In 2003 the Federal Institute for Geosciences and Natural Resources (BGR), on behalf of the Federal Ministry for Economic Cooperation and Development (BMZ), started a technical cooperation programme (GEOTHERM I). In the joint setup of GEOTHERM II Programme, technical cooperation is done by BGR and financial cooperation by the German Development Bank (KfW).
The objective of the GEOTHERM programme is to promote the use of geothermal energy in partner countries by kicking off the development at promising sites and participate at the improvement of the legal and organiational framework for geothermal.
The programme supports partner countries with high geothermal potential for electricity production or direct use. The aim is to minimise the risk associated with the development of geothermal resources at selected sites.
Cooperation partners are governmental institutions, public or private energy suppliers as well as private companies.