Mineral Resources for Development – BGR Module Tajikistan
Country / Region: Central Asia/Tajikistan
Main focus: Mineral Resources
Begin of project: April 27, 2012
End of project: March 31, 2016
Status of project: February 24, 2016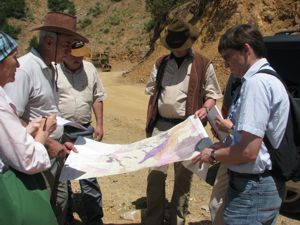 Field excursion to magnetite mineralisation Source: Dr. H.-G. Mylius, BGR
The German Agency for International Cooperation (GIZ), the German Committee on Eastern European Economic Relations (OA) and the Federal Institute for Geosciences and Natural Resources (BGR) realize on behalf of the Federal Ministry for Economic Cooperation and Development (BMZ) the regional technical cooperation program  "Mineral Resources for Development in Central Asia" with the partner countries Kazakhstan,Kyrgyzstan and Tajikistan.
The support through the program focuses on improving the framework conditions of the mineral resources sector with the aim to better contribute to a sustainable and socially beneficial economic development.



The program modules are the following:                                                            
Dialogue platform for the mineral sector.
Framework conditions for investment and technology transfer.
Training framework for the mineral sector.
Assistance to the Head Department of Geology, Tajikistan.
The main program office is set up in Bishkek, Kyrgyzstan to coordinate the activities in Central Asia. The Kazakhstan office is located in Ust Kamenogorsk the regional focus of the project.
BGR's module in Tajikistan supports the Main Department of Geology (MDG) on its way to become a service-oriented institution. For that purpose there are capacity building measures relating to mineral resource evaluation as well as the systematization of data from MDG's mineral resource archive. The activities aim at the identification of economically attractive ore deposits which are put into the focus of international investors. In addition to this it is envisaged to create a base for a mineral resource strategy that would contribute to the sustainable development of Tajikistan.
Technical Cooperation with Central Asia


Project contributions:
Partner:
Head Department of Geology under the government of the Republic of Tajikistan