Policy Advice Mineral and Energy Resources (Phase II)
Country / Region: Supraregional Sector Project
Focal point: Mineral and Energy Resources
Begin of project: July 24, 2013
End of project: September 30, 2016
Status of project: September 30, 2016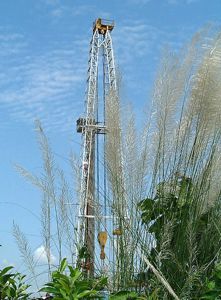 Oil rig in Bangladesh Source: BGR
In many developing countries, mineral and energy resources represent a major source of revenue. Growing global demand for raw materials offers tremendous opportunities for resource-rich countries to boost economic growth and mobilise domestic revenues to finance their development. At the same time, the sector's management and the administration of resource rents poses manifold challenges.
To promote sustainable development, resource producing countries need to optimize revenue generation, distribute and invest extractive revenues strategically, tackle corruption and introduce effective regulation and supervision. Potentially negative environmental, social and health impacts of resource extraction need to be anticipated and minimized. Moreover, it is important to reduce the export dependency on single resources and broaden the basis of the economy by investments in other productive sectors and in the value chain associated with resource production. 
Against this background, the BGR sector project "Policy Advice Mineral and Energy Resources" was launched in 2013 to advise the German Federal Ministry for Economic Cooperation and Development (BMZ) and organisations of German development cooperation on the development aspects linked to the extractive sector. Its main tasks are the provision of information and analysis regarding the extractive sector in developing countries, development of concepts and strategies for transparent and sustainable resource management and support to international initiatives on resource governance.
The sector project builds on experiences gained throughout a preceding project on "Policy Advice Mineral and Energy Resource" which was implemented by BGR from 2007 to 2013.